Alfred Vierling » en français, in het Nederlands, Uncategorized » Guillaume Faye exit. De grote vader van identitair Europa is niet meer.
Zie mijn videogesprek met hem over zijn boek 'La Colonisation de l 'Europe' ( frans gesproken, ned. ondertiteld) bij dit artikel met necrologieën , of op
https://youtu.be/zwuYLwfxus4

Hommage à Guillaume Faye, ami disparu et penseur de la renaissance de l'Europe
07/03/2019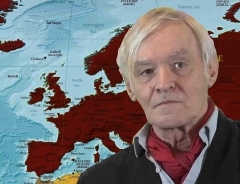 Guillaume Faye n'est plus. Il a rejoint la cohorte des veilleurs de l'Europe au royaume des morts. Il entre dans la légende en figure tutélaire d'une cause qui le mérite et d'un combat qui fut le sien et qui est le nôtre.
Pincé par le crabe, face à un combat dont comme aux Thermopyles on ne pouvait sortir vivant, il aura lutté. Son dernier ouvrage, qui sonne comme une invocation à Mars vengeur, "Guerre civile raciale", sera son testament.
Guillaume Faye a été l'auteur d'ouvrages fondateurs qui bien sûr déclenchèrent le feu de la critique systémique. "La Colonisation de l'Europe", au titre si évocateur, si révélateur aussi, lui aura valu bien des inimitiés, sans parler d'un vil procès. la "Nouvelle question juive", audace subtile, lui aura valu aussi la perte de soutiens qui n'ont pas pu ou pas su comprendre la rupture intellectuelle à laquelle il nous invitait.
Le "Nouveau discours à la nation européenne", revu et augmenté par le Guillaume Faye des années 2000, profondément durci également, rappelle qu'avant tout l'Europe était sa nation, et sa passion. Dans "Pourquoi nous combattons", il rappelait qui nous sommes et quelle est notre mission. Il fournissait aussi de précieuses armes dialectiques à la résistance.
"L'Archéofuturisme" fut et demeure son ouvrage majeur. La nouvelle qui clôt son livre, vision d'une Europe ayant triomphé au prix de pertes immenses, est le révélateur d'une vision prométhéenne de l'homme européen, mais aussi de cette leçon de vie qui est que le monde est une arène de combat, et que le soleil inonde de sa lumière une vallée de larmes qu'il assèche ainsi. Loin d'un simple "vieux-neuf" ressuscité d'une figure du passé, mais en revanche conforme au Nietzsche le plus féroce, que Guillaume n'aura cessé d'honorer, l'auteur ne cessa de nous appeler à nous relever. Car nous tombons certes mais pour nous relever plus fort, encore. En tout cas, tant que la troisième Moire, ne décide pas de mettre fin à l'aventure. Atropos coupa le fil. L'ami s'en alla en Elysion.
Guillaume Faye n'est plus, mais sa mémoire lui survivra. La gloire impérissable des héros ne l'a pas oublié. Comme nous ne l'oublierons pas. Il fut un professeur d'énergie, un maître de sagesse. Guillaume me disait il y a encore un an que Dominique Venner était la figure qui l'avait amené à rentrer au GRECE. Il rejoint celui qui l'a inspiré dans le royaume d'Hadès.
Tu as été de nos hérauts. Nous serons les réalisateurs de ton œuvre.
Requiescat in Elysio.
Per Iouem, nom de Zeus, c'était Guillaume Faye. A l'ami, salut !
Thomas FERRIER
Écrit par Ferrier dans la catégorie Guillaume Faye
4 commentaires
Ainsi le crépuscule l'a-t-il englouti. Mais l'aube, demain, aura une lueur nouvelle…

Sous une forme ou sous une autre, prochainement ou dans quelques siècles – qu'importe, car le temps est un ressac infini où l'écume du passé se mélange à celle d'aujourd'hui et de demain -, nous le reverrons.

Son souffle continuera d'animer cette flamme si particulière, si honnie par les hordes lucifuges, qui crépite chez beaucoup d'entre nous.

Et quand les Européens se relèveront, quand les Dieux dans leur sang auront terminé d'y bouillonner et d'y réveiller la sagesse et la sainte fureur, alors les Européens auront bien des légions ; il y aura une légion Robert Dun, une légion Saint Loup, une légion Jean Mabire, une légion Dominique Venner, et tant d'autres… et une légion Guillaume Faye, désormais.

Il est mort mais sa vie fut pleine et il fut un homme bon, car bien des esprits (dont le mien) auront trouvé, et continueront de trouver grâce à lui un chemin haut et clair dans l'obscurité qui s'épaissit à l'entour.

Il ne faut pas pleurer Guillaume Faye. Il faut crier son nom comme un cri de guerre. Aujourd'hui nous sommes tristes mais ses écrits et sa parole résonnent en nous comme de solides viatiques, ils nous rendent plus forts, et plus joyeux jusques et y compris dans l'adversité. Surtout dans l'adversité.

*

"C'est le soir qu'il faut louer le jour" (Hávamál, 81).

Louons Guillaume Faye.

Que Lug le bénisse,
Qu'il chevauche aux côtés d'Epona,
Que le tonnerre et le fracas de Taranis grondent pour lui,
Que sa verve et sa plume soient reconnues par Ogmios,
Que Lug le porte sur ses rais lumineux,
Que Kernunos le baigne en ses eaux lustrales.
Que les Hommes honorent sa mémoire.

Adieux Guillaume !Publié il y a 12 heures par Togirix.Répondre à ce commentaire
Très bel hommage. Guillaume aurait apprécié.Publié il y a 11 heures par Thomas FERRIER.Répondre à ce commentaire
Merci, cher Thomas Ferrier – je vous rends la pareille.

Mes premières incursions en territoire païen ET identitaire (si tant est que l'un puisse aller sans l'autre), c'est à Guillaume Faye que je les dois. J'ai certes suivi, par la suite, mon propre sentier. Mais c'est lui m'a aidé à donner les premiers coups de serpe dans cette combe de ronces et de branchages enchevêtrés où nous naissons.

Au fond, je viens de perdre un maître.Publié il y a 1 heure par Togirix.
Merci à tous les auteurs de nécrologie ci-dessus. En tant que néerlandais je n'ai rien à y ajouter qu'une référence assez banale àė ma vidéo-rencontre d'une heure avec Guillaume Faye en français soutitré en néerlandais. voir www.alfredvierling.com sur home oage ou sous buton video/audio ou sur youtube.com en recherchant: vier maal vierling Guillaume Faye.

Nota Bene: J'ai l'ai rencontré 1ière fois me trouvant dans ses bras en me confortant juste après le choc de ne même pas être remercié en tant que traducteur du manifeste longue et compliqué de Benoit par celui-ci,Publié il y a 31 minutes par alfred vierling
March 7, 2019 • 5 Comments
Reflexions sur Guillaume Faye avec Yann-Ber Tilleron
Pour un hommage A G. Faye par Thierry Durolle voir ici
http://www.euro-synergies.hautefort.com/archive/2019/03/12/hommage-a-guillaum-faye-par-thierry-durolle-613566.html#.XIfv7HDGnqE.twitter
voir d'autres nécrologies en français , en anglais et en allemand ci-dessous:
veuillez lire la néceologie la plus détaillée par Robert Steuckers:
https://robertsteuckers.blogspot.com/?m=1
https://blogelements.typepad.fr/blog/2019/03/guillaume-faye-par-ceux-qui-lont-connu.html
Greg Johnson
1,241 words
I was deeply saddened to learn today of the death of French New Right philosopher and polemicist Guillaume Faye after a battle with cancer. Faye had been sick for some time, but he was so focused on writing what will now be his last book that he postponed seeing a doctor until it was complete. When he finally sought medical attention, he was diagnosed with stage four cancer. There is no stage five. Guillaume Faye gave his life for his work, and his work for Europe.
Faye, like New Rightists and White Nationalists in European societies around the globe, was motivated by a sense of danger: the reigning system — liberal, democratic, capitalist, egalitarian, globalist — has set the white race in all of its homelands on the path to extinction through declining birthrates and race replacement through immigration and miscegenation. If we are to survive, we must understand this system, critique it, and frame an alternative that will secure the survival and flourishing of our race. Then we need to figure out how we can actually implement these ideas.
I like Faye's approach for a number of reasons.
First, Faye thinks big. He wants to take all of Europe back for Europeans. I completely agree with this aim. Furthermore, to secure the existence of Europe against the other races and power blocs, Faye envisions the creation of a vast "Eurosiberian" Imperium, stretching from Iceland to the Pacific, with a federated system of government and an autarkic economy. He believes that only such an imperium will be equal to the challenges posed by the other races in a world of burgeoning populations and shrinking resources. As I argue in my essay "Grandiose Nationalism," I think that such ideas are neither necessary nor practical and they entail dangers of their own. But nobody can fault them for visionary boldness.
Second, Faye thinks racially. His answer to the question "Who are we?" is ultimately racial, not cultural, religious, or subracial: white people are a vast, extended family descending from the original inhabitants of Europe after the last Ice Age. There are, of course, cultural and subracial identities that are also worth preserving within a federated imperium, but not at the expense of the greater racial whole.
Third, Faye is not a Luddite, primitivist, or Hobbit. He values our heritage, but he is attracted less to external social and cultural forms than to the vital drives that created them and express themselves in them. He also wishes to do justice to European man's Faustian drive toward exploration, adventure, science, and technology. His "archeofuturism" seeks to fuse vital, archaic, biologically-based values with modern science and technology.
Fourth, Faye turns the idea of collapse into something more than a deus ex machina, a kind of Rapture for racists. We know a priori that an unsustainable system cannot be sustained forever and that some sort of collapse is inevitable. But Faye provides a detailed and systematic and crushingly convincing analysis of how the present system may well expire from a convergence of catastrophes. Of course, we need to be ready when the collapse comes. We need a clear metapolitical framework and an organized, racially conscious community to step into the breach, or when the present system collapses, it will simply be replaced with a rebranded form of the same ethnocidal regime.
Fifth, Faye is a strong critic of Christianity as the primary fount of the moral universalism, egalitarianism, and individualism that are at the root of our decline.
The only really fundamental disagreement I have with Faye was on the Jewish question. His views are closer to those of Jared Taylor, whereas mine are closer to those of Kevin MacDonald.
I only met Faye once, at the 2006 American Renaissance conference, where we had a couple of enjoyable conversations. We corresponded occasionally before and after that meeting. One of my treasured possessions is a copy of Faye's first book, Le Système à tuer les peuples (Copernic, 1981), which he had given to Savitri Devi. Unfortunately, he was never able to locate his brief correspondence with Savitri. Perhaps it will come to light in his papers, which should be carefully preserved. If European man has a future, it will be due in no small part to Faye's works. He belongs to history now, and future European generations will look dimly upon us if we fail to conserve and carry on his legacy.
Counter-Currents will publish several memorial tributes to Faye in the coming days. In the meantime, I wish simply to draw your attention to many pieces by and about Faye at Counter-Currents.
By Guillaume Faye:
About Guillaume Faye:
Previous PostBetween Buddha &Führer:
The Young Cioran On Germany
5 responses
http://euro-synergies.hautetfort.com/archive/2019/03/12/guillaume-faye-rest-in-peace.html#.XIfx3A-N3Gs.twitter
7. März 2019
Guillaume Faye ist verstorben – ein Nachruf
Guillaume Faye gilt noch heute als einer der bekanntesten Protagonisten der französischen rechten Publizistik. Nun ist er verstorben.
Faye wurde 1949 im Südwesten Frankreichs als Sohn einer vermögenden Familie des klassischen Großbürgertums geboren. Nach einer kurzen Trotzphase als Schüler, in der er Begeisterung für die »Situationisten« aufbrachte, wandte er sich nationalistischen Studentenzirkeln in Paris zu.
Am renommierten Institut d'études politiques (bekannt als »Sciences Po«), dem politikwissenschaftlichen Institut, am dem 50 Jahre vor ihm auch Pierre Drieu la Rochelle studiert hatte, promovierte Faye 1973. Aber bereits drei Jahre zuvor gelangte Faye über Vermittlung des jungen rechtsrevolutionären Kaders Dominique Venner in jene Kreise, die wenige Jahre später als Nouvelle Droite (Neue Rechte) europaweit bekannt wurden.
Faye wurde zu einem der Hauptakteure des Groupement de recherche et d'études pour la civilisation européenne, kurz GRECE, übernahm die Leitung des angeschlossenen »Forschungssekretariats« und startete – damals waren entsprechende Konstellationen vorübergehend möglich – parallel eine Karriere als Journalist in den bürgerlichen Medien Figaro und Paris-Match.
Bis heute wird Faye – speziell in antifaschistischen Verlautbarungen – als GRECE-Aktiver gelistet, er verließ die Studieneinrichtung um ihren Motor Alain de Benoist aber bereits Mitte der 1980er Jahre, nachdem er mit der eingeschlagenen Richtung der jungakademischen Gruppierung nicht einverstanden war.
Ebendieses dezidiert Akademische störte nicht nur Venner, der seine eigenen Wege – jenseits Benoists – einschlug, sondern auch Faye. Ihm fehlte die realpolitische Erdung, der Drang zum Allgemeinverständlichen. Gleichwohl zog es Faye nicht in Strukturen der Tagespolitik. Stattdessen wirkte er für etwa zehn Jahre als Mitarbeiter französischer TV-Sender.
Ausgerechnet während seiner politischen Enthaltsamkeit wurde Fayes Publizistik in Deutschland eingeführt. Das noch heute lesenswerte Warum wir kämpfen wurde 1985 von nationalen Studenten in Eigenregie übersetzt und verlegt; die entschlossene Rede an die europäische Nation als Ein Appell gegen die Bevormundung Europas erschien sechs Jahre später im Tübinger Hohenrain-Verlag, dessen damalige deutsch-französische Kernmannschaft sich in den 1980er und frühen 1990er Jahren um deutsch-französische Übertragungen bemühte.
1997 zog es Faye nach zehn Jahren Abstinenz zurück in die Politik. Über die Vermittlung seines Bekannten Pierre Vial, eines neoheidnischen Historikers, der wenige Jahre zuvor den völkisch-nationalen Kreis »Terre et Peuple« gegründet hatte, fand er schnell Anschluß an verschiedene Gruppen am Rande und rechts der Nouvelle Droite; es waren dies Gruppen, die mit dem ethnopluralistischen, national- und sozialrevolutionären Kurs von Alain de Benoist und seinen Medien – Nouvelle École, Krisis, éléments – wenig anfangen konnten und ausdrücklich rassenpolitische Standpunkte erarbeiteten.
Inhaltlicher Differenzen ungeachtet wurde Faye erneut Mitglied von GRECE, das als Sammelbecken der französischen rechten Intelligenz für jeden Autoren schwer zu umgehen war, der als Multiplikator auf neue Resonanzräume innerhalb nonkonformer Milieus hoffte.
1998 legte Faye mit seinen erklärten Ansätzen, »Evola mit Marinetti zu versöhnen« und ein archäo-futuristisches Zeitalter nach der nahenden »Konvergenz der Katastrophen« zu skizzieren, sein wohl bekanntestes Werk vor: L'Archéofuturisme (englische Arktos-Edition: Archeofuturism) wurde für junge Rechte Westeuropas zum – oftmals indes nur als Schlagwort rezipierten – Kultbuch.
»Archäofuturismus« besteht aus fünf politischen Aufsätzen und einer Novelle. Während die Essays unterschiedliche Niveaus erreichen – kluge Kritik am Gramscismus von rechts hie, esoterischer und elitistischer Religionszugang da –, ist die Erzählung eminent lesenswert.
»Ein Tag im Leben des Dimitri Leonidovich Oblomov« ist nichts anderes als Science-Fiction von rechts und will eine »Chronik archäofuturistischer Zeiten« darstellen. Obschon bekannt und beliebt, steht eine deutsche Übersetzung dieser Novelle ebenso aus wie im Falle der elf Fortsetzungserzählungen in Archeofuturism 2.0, die 2016 – ebenfalls bei Arktos – in englischer Übersetzung vorgelegt wurden.
Das GRECE-Intermezzo währte indessen nur kurz. Im Jahr 2000 schloß die Führung um Alain de Benoist (und damals noch Charles Champetier) Faye aus. Ein Text Fayes über die »Kolonisation Europas«, in der er seine – mittlerweile bekannteren – Ansichten eines »weißen Nationalismus« einführte, gab den Ausschlag.
Faye wirkte als freier Denker ohne eigene Organisation, was nicht bedeutete, daß er anschlußlos verblieb: In Frankreichs politischer Rechten sind die Grenzen durchlässiger, auch krasse Meinungsverschiedenheiten und weltanschaulicher Zwist werden meist ausgetragen, ohne daß persönliche Beziehungen darunter litten, und die durchaus vorhandenen Trennlinien zwischen »alter«/»harter« und »neuer« Rechten werden explizit durch Inhalte markiert, nicht durch Kontaktverbote.
2007 wurde diese französische Besonderheit aber auf eine harte Probe gestellt: Guillaume Faye publizierte seine Schrift über La Nouvelle Question juive. In dieser Polemik über die »neue Judenfrage« holte er zum Rundumschlag gegen aktuelle und ehemalige französische Weggefährten aus; er wurde gewissermaßen Solitär.
Neben Alain de Benoist traf es insbesondere den heutigen nationalrevolutionären Verleger Christian Bouchet und den linksnationalen Skandal-Aktivisten Alain Soral mit voller Breitseite: Faye warf ihnen Appeasement gegenüber der aus seiner Sicht größten Bedrohung aller Zeiten – das sei der globale Islam – vor. Er plädierte für kämpferische Solidarität mit Israel als dem zivilisatorischen, der westlichen Welt entschlossen vorangehenden »Bollwerk« gegen rückschrittliche, islamische Barbarei.
Es waren diese dichotomisch artikulierten Positionen als ideologischer Synthese zwischen (hierzulande operierenden) Vulgär-Antideutschen und (bevorzugt im US-amerikanischen Raum aktiven) White Supremacy-Anhängern, die Faye in seiner zweiten politischen Lebenshälfte bis zu seinem Tod stark machte: eine weiße, westliche, moderne Welt mit zivilisatorischen Errungenschaften einerseits; eine rückständige, feindliche und islamisch dominierte Außenwelt andererseits (China, Südostasien oder Lateinamerika sahen sich ignoriert).
Daß Faye wirtschaftliche, soziale und ökologische Fragen samt und sonders in den Hintergrund rückte oder dedizidiert negierte, weil die konstante Auseinandersetzung mit dem scheinbar omnipräsenten Machtfaktor Islam alles überlagerte, baute endgültig unüberwindbare Hürden zur differenzierter und komplexer arbeitenden französischen Nouvelle Droite auf, während er in Teilen der angloamerikanischen Szene prominenter wurde.
Eine deutsche Rezeptionsgeschichte ist hingegen seit 1991 – als die Rede an die europäische Nation erschien – nicht (mehr) geschrieben worden; für die Neue Rechte der BRD, einschließlich für diese Zeitschrift und ihr metapolitisches Umfeld, spielte Faye schlicht keine theoriebildende Rolle, was freilich nicht ausschließen soll, daß auch in Deutschland Einzelpersonen jenseits des Komplexes »Schnellroda« Faye als Vordenker für sich entdeckten.
Fayes ab der Jahrtausendwende vertretenen Ideen von Rassen- und Kulturkampf als Schlüssel zur westlichen Selbstfindung mündeten final in einem Buch, das vor wenigen Wochen erst in den Druck ging: Guerre Civil Raciale (Rassenbürgerkrieg) soll in einigen Tagen erscheinen.
Guillaume Faye erlebt dies nicht mehr; er starb in der Nacht vom 6. auf den 7. März nach einer schweren Krankheit und hinterläßt ein widersprüchliches, diskutables und doch – was den kleineren, belletristischen Part anbelangt – überdauerndes Werk.
---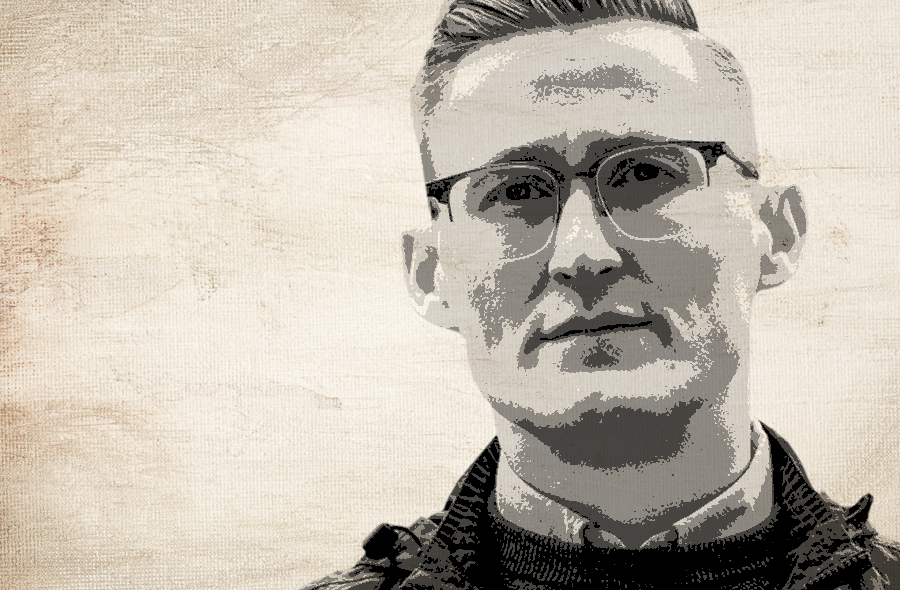 Benedikt Kaiser ist Politikwissenschaftler und arbeitet als Verlagslektor.
---


Kommentare (6)
Der_Juergen
7. März 2019 20:52
Ich habe Faye als kaustischen, hochintelligenten Gesprächspartner mit einer enzyklopädischen Kenntnis der französischen Rechten kennengelernt, von der er, mit Ausnahme des katholisch-traditionalistischen, alle Sektoren aus persönlicher Erfahrung kannte.
"Archeofuturisme" und "La Colonisation de l'Europa" sind Bücher von bleibendem Wert. Faye war mehrmals in Moskau; eine dortige Organisation erwog anfangs, ihn zum Führer oder Vordenker einer aus Russen und anderen Europäern bestehenden supranationalen Organisation weisser Nationalisten zu machen, was jedoch an seinen offenkundigen charakterlichen Schwächen und seinem nicht eben vorbildlichen Lebenswandel scheiterte. Mit seinem katastrophalen Buch "La nouvelle question juive", dessen Veröffentlichung er später lebhaft bedauerte, hat er sich jedoch ins Abseits gestellt und wurde fortan von vielen ehemaligen Mitstreitern gemieden. Trotz allem: Friede seiner Asche. Er war zu mehr berufen, als er dann tatsächlich geleistet hat, doch wird einiges von seinem Werk ihn überdauern.
P H
8. März 2019 06:26
@Der_Juergen – Gibt es für das "lebhafte Bedauern" der Veröffentlichung von "La nouvelle question juive" eine Quelle?
Der_Juergen
8. März 2019 08:38
P H
Ja, die Aussagen von Faye mir gegenüber in Moskau (vermutlich Oktober 2016), aber da müssen Sie mir einfach glauben oder nicht, denn ich habe kein Dokument dafür.
Benedikt Kaiser
8. März 2019 08:59
@PH, @Der_Juergen:
Ohne jetzt zu sehr auf dieses Thema zu fokussieren, aber das mündliche Bedauern im privaten Zwiegespräch kann von Faye natürlich auch so gehandhabt worden sein, weil er einen Standpunkt als konträr einschätzte und – als einsam gewordener Akteur – ggf. mal um Entspannungspolitik bemüht war. Daß sein gesamtes Konstrukt (ab 2000 ff.) vom freien Westen (samt möglichem, geostrategischem Partner USA und dem fortschrittlichen Leuchtturm Israel) als Bastion der weißen Zivilisation gegen all die nichtweißen Barbaren dieser Erde nicht (publizistisch) revidiert wurde, ist ja offenkundig. Es sei denn, im heute publizierten »Rassenbürgerkrieg«, aber alleine der Titel läßt das relativ unwahrscheinlich aussehen …
Niekisch
8. März 2019 14:51
Bon camarade Guillaume,
Das ist die Kraft, die nimmer stirbt
und immer wieder streitet,
das gute Blut, das nie verdirbt,
geheimnisvoll verbreitet!
Solang noch Morgenwinde
voran der Sonne wehn,
wird nie der Freiheit Fechterschar
in Nacht und Schlaf vergehn!
(Gottfried Keller)
Du schriebst als letzen Satz in "Wofür wir kämpfen" "Eines Tages wird Apollo wiederkehren, und zwar für immer". Er nimmt Dich dann an die Hand, um die letzte Prophezeiung der Pythia zu Delphi zu erfüllen.
Solution
8. März 2019 18:21
Wer der französischen Sprache nicht mächtig ist, kann das Werk von Faye in der englischen Sprache lesen. Es ist in wachsendem Umfang bei Arktos zu haben.
Für diesen Beitrag ist die Diskussion geschlossen.
Autoren
Benedikt Kaiser, Ellen Kositza, Götz Kubitschek, Erik Lehnert, Martin Lichtmesz, Felix Menzel, Lutz Meyer, Johannes Poensgen, Martin Sellner, Caroline Sommerfeld, Nils Wegner, Till-Lucas Wessels, Michael Wiesberg

Filed under: en français, in het Nederlands, Uncategorized · Tags: Guillaume Faye